Flanker Kitchen at Mandalay Bay D
Flanker Kitchen at Mandalay Bay Drops Sweet New Renderings
A new restaurant is headed to Mandalay Bay, Flanker Kitchen + Sports Bar.
Yes, we're sharing this regardless of the sports. It's called making sacrifices for you.
Flanker Kitchen now has an opening date: June 10, 2023.
Here's a peek at what this new Mandalay Bay offering has in store.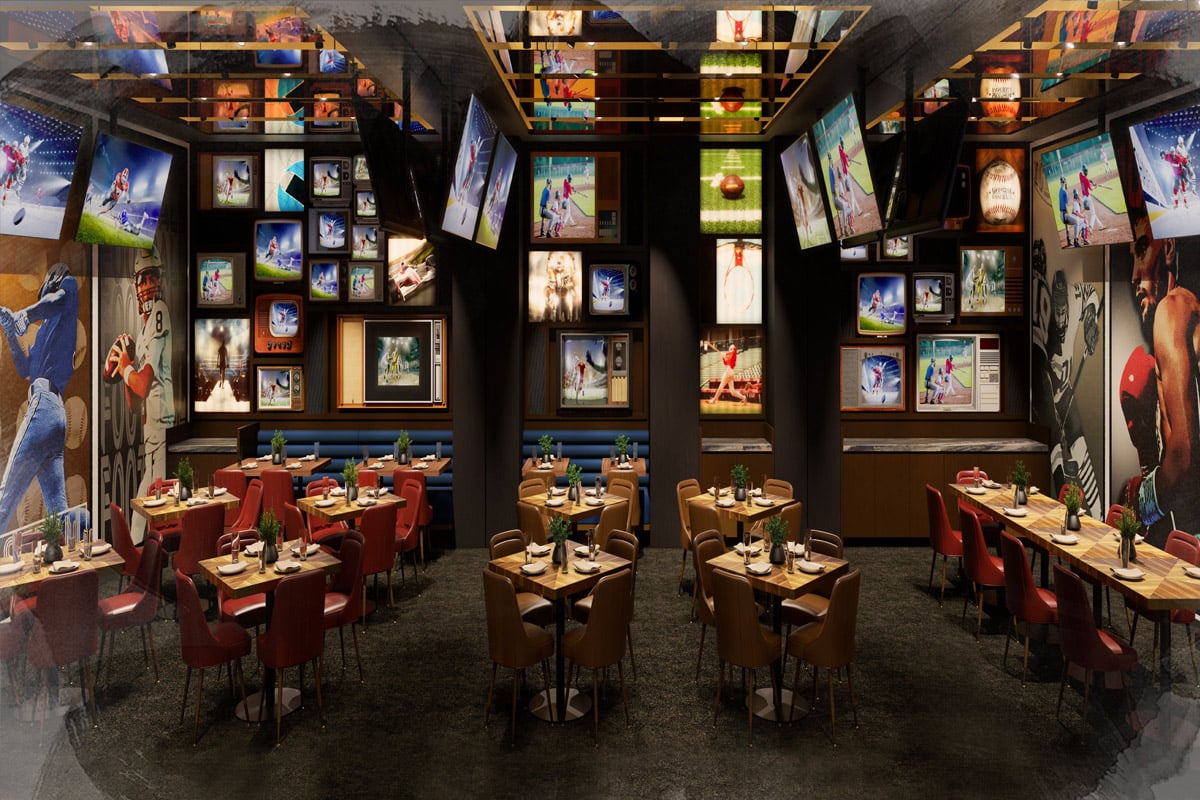 First word of Flanker Kitchen was shared in August 2022.
Surprisingly, Flanker Kitchen + Sports Bar isn't being billed as "immersive." It's being promoted as "fully immersive," which is a very different animal. We are honestly so sick of these partially immersive restaurants in Las Vegas. If you're not going to be fully immersed, why even bother? It's like being partially pregnant. Fully pregnant or nothing! Which is probably controversial, but you get the point, so nevermind.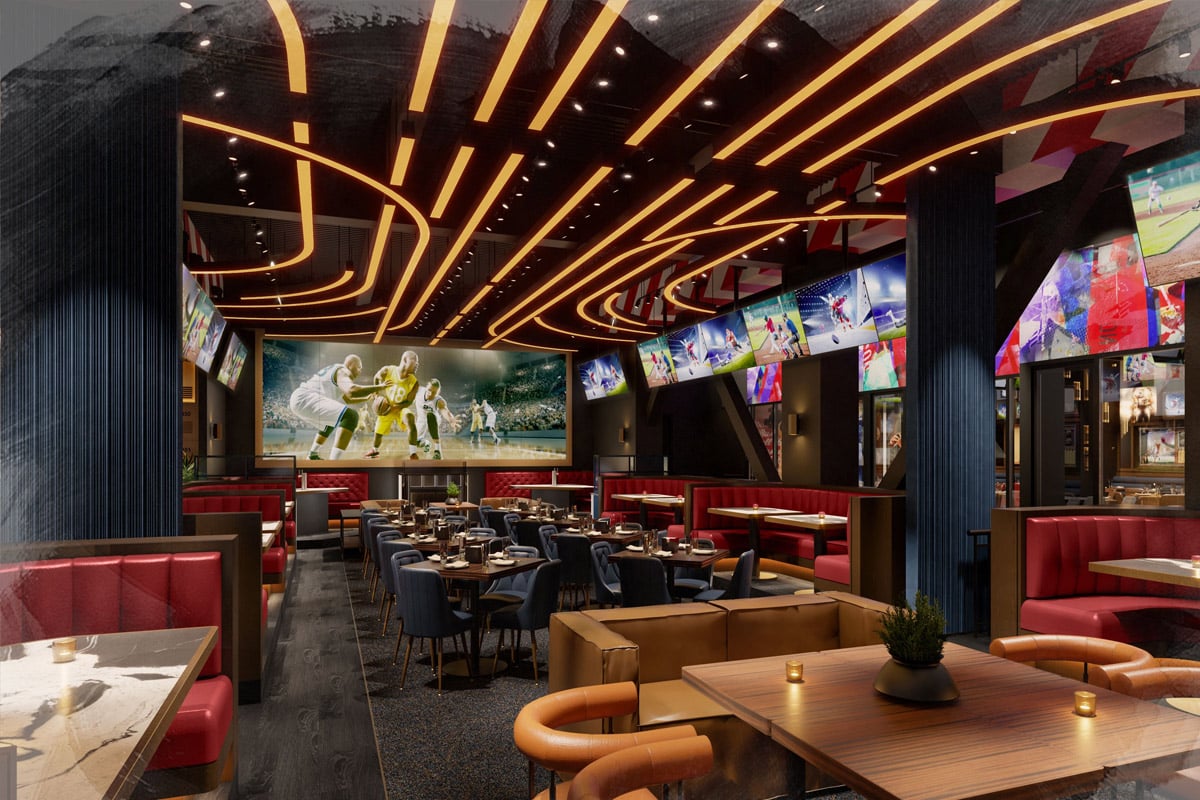 Flanker comes from Carver Road Hospitality, and its CEO, Sean Christie, pretty much invented Las Vegas nightlife, so he has thick skin when idiots like us make jokes about immersion.
Here's the official description of Flanker Kitchen: "Flanker Kitchen + Sports Bar boasts a menu of enhanced American classics. Created by Chef Daniel Ontiveros, Carver Road Hospitality's corporate executive chef, scratch burgers, sliders, shareable tacos, and a healthy selection of salads and bowls are among the offerings. A full beverage program by world-renowned mixologist Francesco Lafranconi, vice president of beverage and hospitality culture, features signature cocktails and an enviable selection of draft and bottled beer."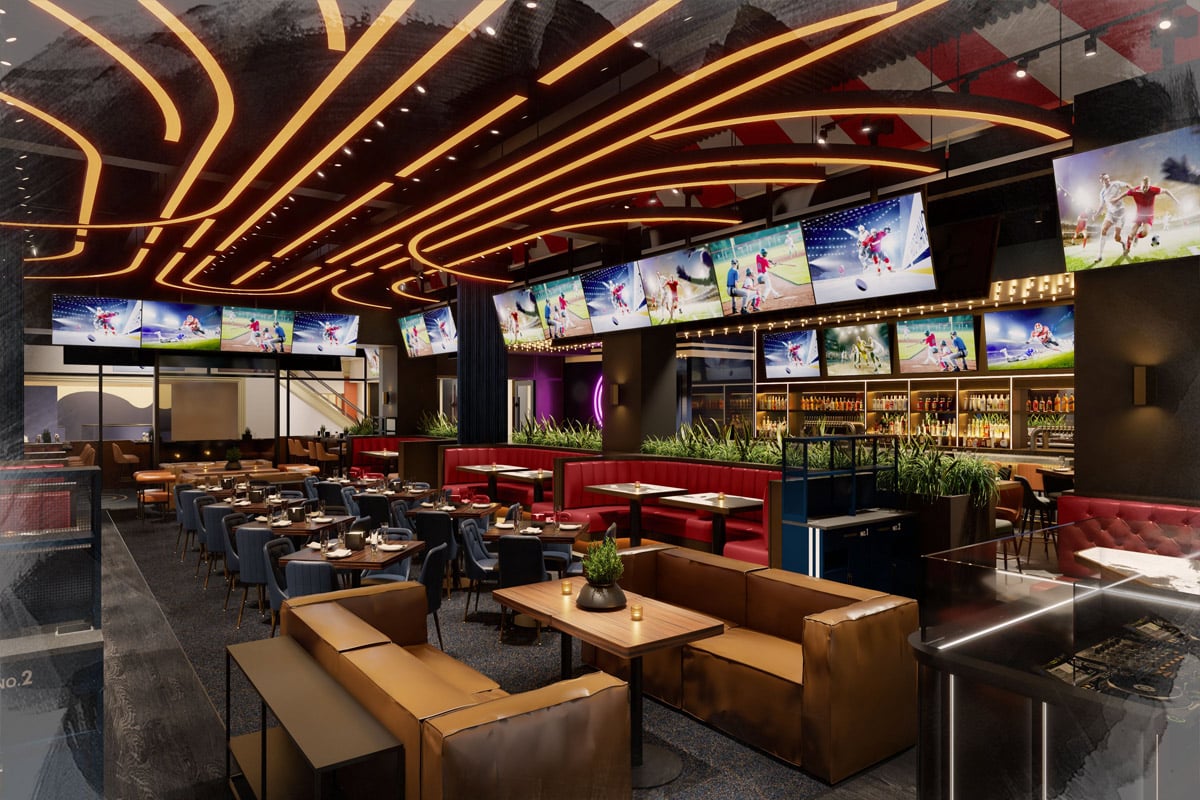 Chef Daniel Ontiveros is bomb, or slays, whatever the kids are doing now. He was the former executive chef at the excellent Scotch 80 Prime at Palms and so-so T-Bones Chophouse at Red Rock Resort, and he oversaw the launch of Carversteak at Resorts World.
We broke the Carversteak thing, of course. Ontiveros is on the left.
Flanker Kitchen will have a 102-seat main dining room, just to irritate our fellow OCD sufferers.
There will be three private dining suites, accommodating 20, 40 or 60 people. The restaurant will include a 24-seat dining patio.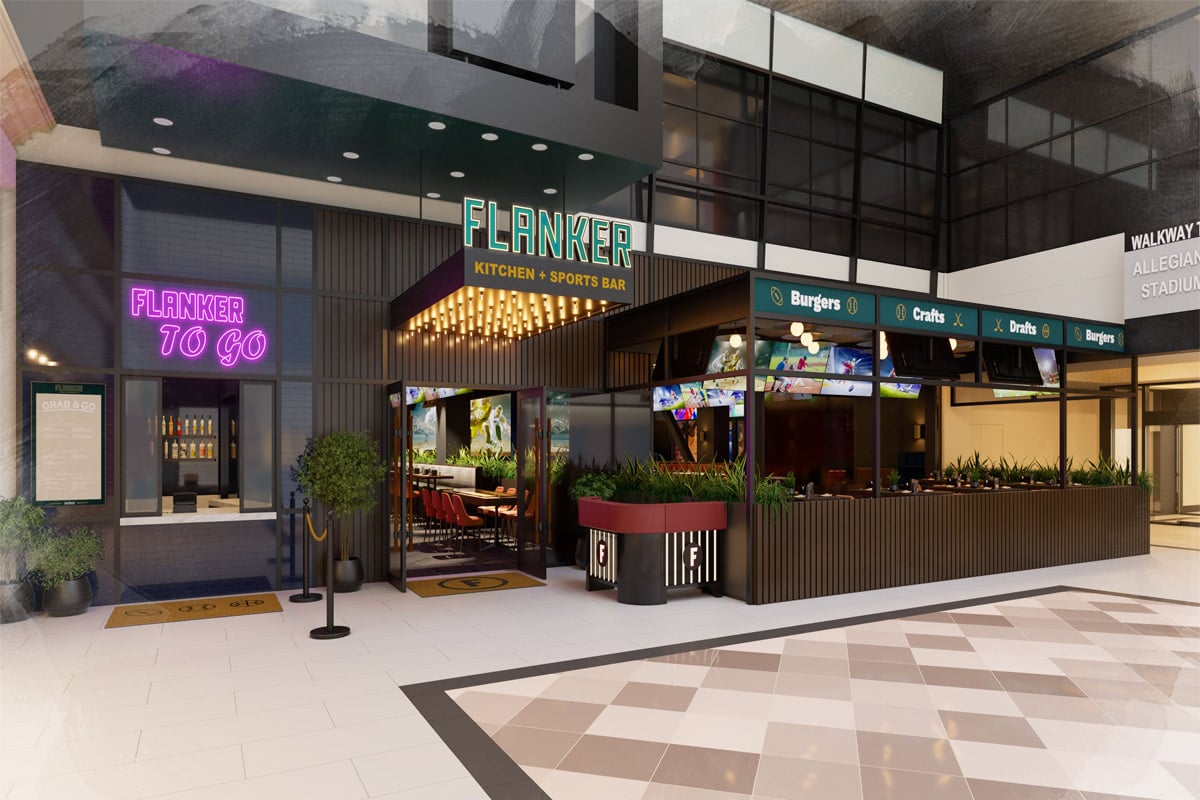 There will also be a private, 20-seat karaoke room which we aren't going to talk more about because we don't want to encourage any venue to have karaoke.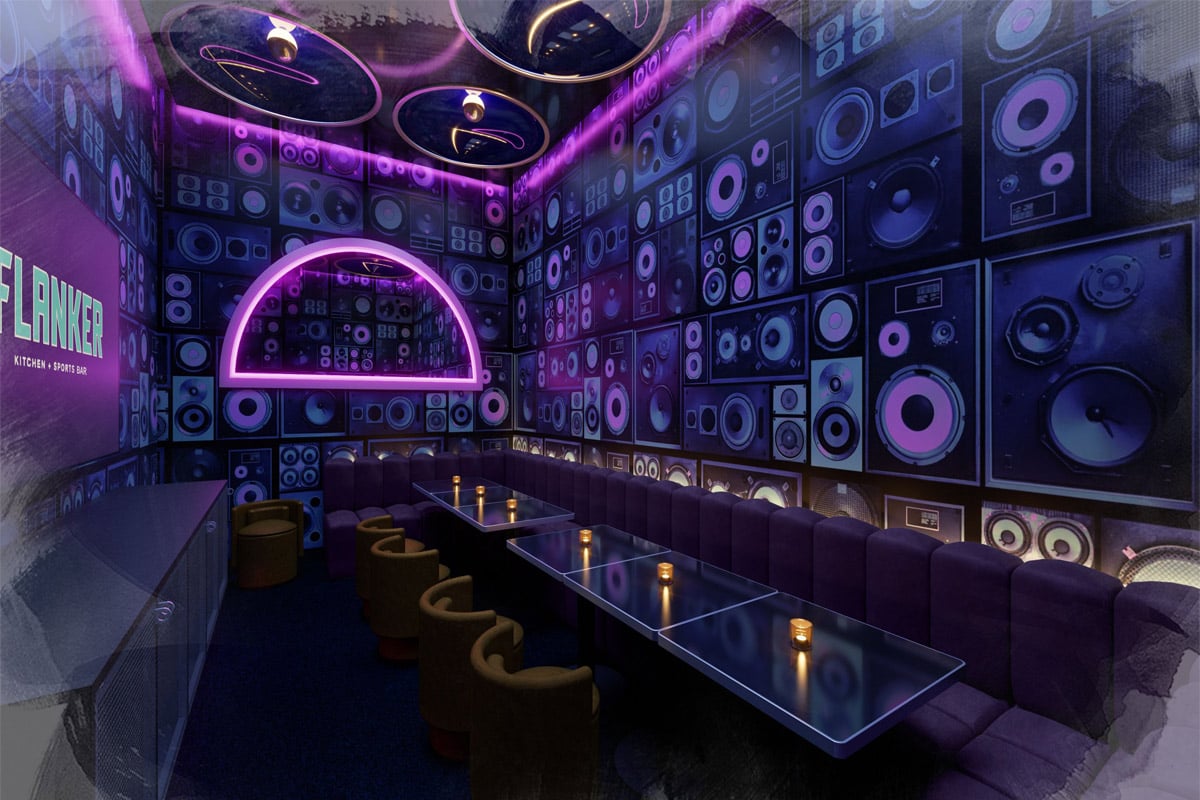 The original Flanker (Flanker Kitchen + Sporting Club), located in Salt Lake City, Utah, has lots of interactive activities, like duckpin bowling and golf simulators. We couldn't find those things in the renderings for the Mandalay Bay location, but we'll have to see what's there when it opens. We did spot what might be tabletop shuffleboard in the rendering below, but it has a glass covering, so possibly also not.
Oh, and the original location has sunset yoga. We would not be mad if Sean Christie used his nightclub connections to paper the place with atmosphere models in activewear. Just saying.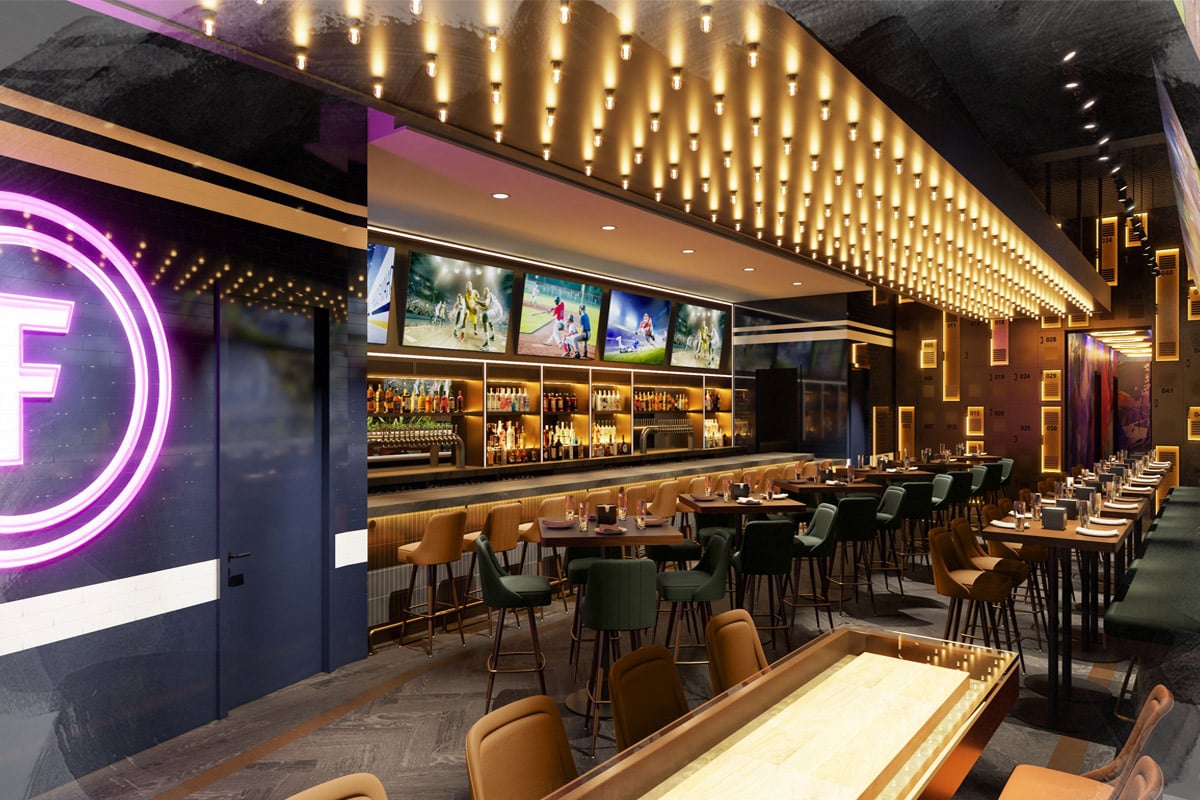 Are you really going to make us zoom in on the Captain Morgan and add a big red arrow pointing to it? You can't just trust us on this?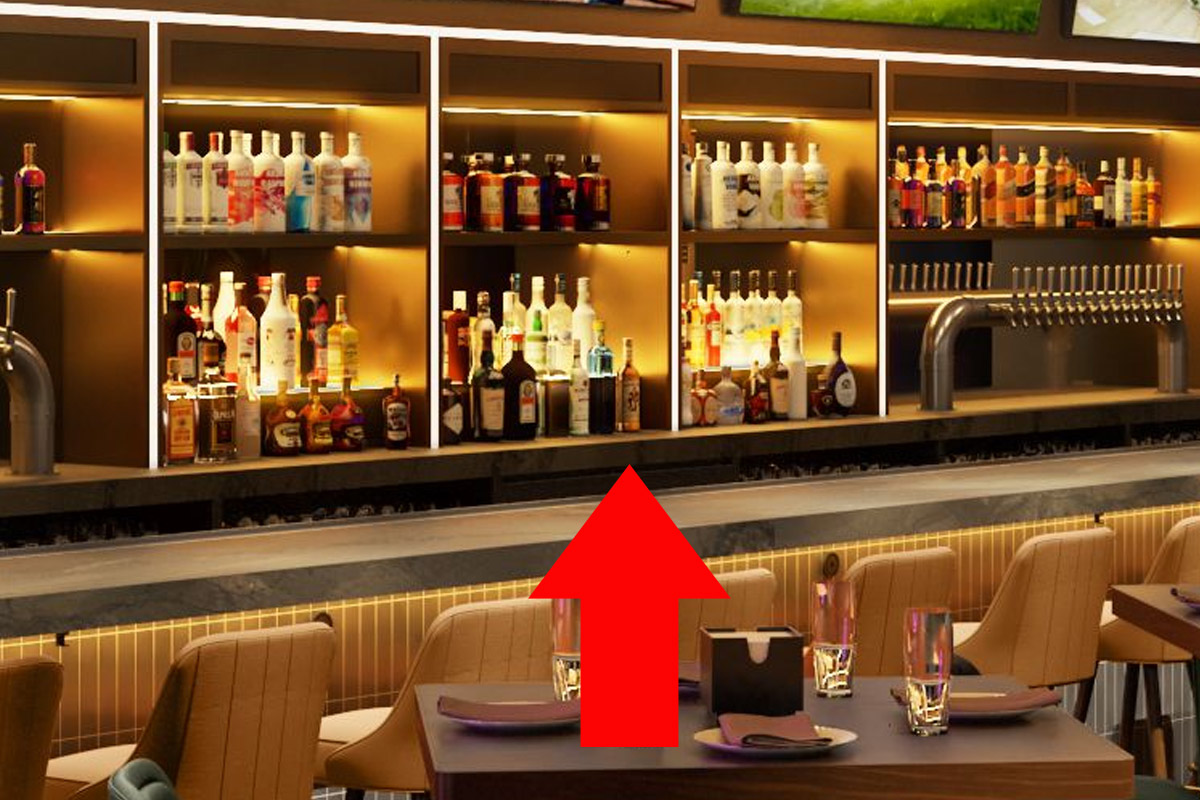 Here are the hours of operation: Monday through Thursday, 11:00 a.m. to 11:00 p.m.; Fridays, 11:00 a.m. to 2:00 a.m.; Saturdays, 5:00 p.m. to 2:00 a.m.; and Sundays, 5:00 p.m. to 11:00 p.m.
Flanker Kitchen + Sports Bar will be here before you know it, and the Utah location menu looks delicious, so you know we'll be there, wearing Lycra under our T-shirt and mom jeans.
RECENT ARTICLES